A Focus on Understanding Patient Pathology (Mail)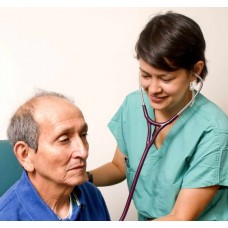 Course ID:
PatientPathology-2508-m
Credit:
8 Category A Credits
Instructor :
AHEC Faculty
Expiration Date:
03-31-2019
Price: $89.00

*The format for this CE activity is reading material and a post test on USB Flash Drive with multiple choice questions.
In the field of Radiology, communication with people who have communicable diseases is unavoidable. Health Care Workers can reduce the risk of contracting diseases through education in the most commonly occurring types of pathological conditions. This lesson will help the radiographer distinguish the difference between Hepatitis A, B, non-infectious Hepatitis and Hepatitis C, and explain the radiographer's role in diagnosing Hepatitis.
In the world of radiology, healthcare professionals are exposed to a multitude of diseases. Healthcare professionals can reduce the risk of contracting diseases and learn patient care for indidivuals that have neurological impairments through education. This home study will help the radiologic technologist identify five common diseases in the radiology department and how to work with patients with these illnesses.
**$15 processing fee if AHEC prints the home study material
Course Topics
Arthiritis
Hepatitis
Tuberculosis
Alzheimer's
Parkinson's
Approval Expirations:
All Home study approvals have an expiration date. Some of our home studies are approved for one year others for two years. Whether a home study is renewed at the end of its expiration date is determined by the materials content and relevancy. AHEC recommends if you plan to purchase a home study to complete at a later date that you contact us to confirm the expiration date.
AHEC Home Study Guidelines:
We are going green! All mail home studies are now sent out on USB/Flash drives that you will need to plug into a computer.
All needed course materials, posttests, and answer sheets are available on the USB/Flash drive. For further instructions, please open the "Cover Page and Copyright" PDF in the folder for the specific home study.
If you purchased multiple home studies you may receive all materials on one USB/Flash drive, or multiple in the same mailing package.
Print the answer sheet page, fill in your answers and you can fax it back to us at 713.772.0155 or mail it back to AHEC, 8502 Tybor Drive, Houston, TX 77074.
Passing grade is 75% or higher. AHEC will notify you only if you do not pass the test. You have three chances to take the test and receive a 75% or higher.
The grading process takes 1-2 business days and the USB is yours to keep.
Write a review
Your Name:
Your Review:
Note: HTML is not translated!
Rating:
Bad
Good
Approval expires on 03/31/2019