Medical Emergencies in Radiology (Mail)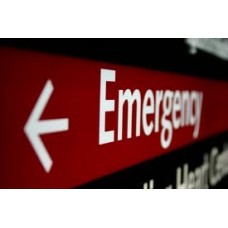 Course ID:
MedEmerg-107-m
Credit:
3 Credits Category A
Instructor :
Jera Roberts RT(R)(M)
Expiration Date:
05-31-2018
Price: $37.50

*The format for this CE activity is reading material and a post test on USB Flash Drive with multiple choice questions.
Successfully address your needs for imaging procedures in this lesson. Trauma imaging does not happen exclusively in a Level 1 trauma center. Even the smallest facility can receive the most severe trauma cases. In addition to trauma we know that stroke, heart attack, contrast reactions and more can happen while we are imaging the patient. Technologists need to be knowledgeable and prepared to not only recognize, but provide primary support until a physician and medical team arrive. This program provides fundamental information needed for the technologist to successfully address an emergency situation while imaging patients.
• Patient assessment
• Signs of a Patient at Risk
• Treating Trauma Patients
• Now to Respond to an Emergency
• Supplies and Equipment Required to Respond to an Emergency

**$15 processing fee if AHEC prints the home study material
Approval Expirations:
All Home study approvals have an expiration date. Some of our home studies are approved for one year others for two years. Whether a home study is renewed at the end of its expiration date is determined by the materials content and relevancy. AHEC recommends if you plan to purchase a home study to complete at a later date that you contact us to confirm the expiration date.
AHEC Home Study Guidelines:
We are going green! All mail home studies are now sent out on USB/Flash drives that you will need to plug into a computer.
All needed course materials, posttests, and answer sheets are available on the USB/Flash drive. For further instructions, please open the "Cover Page and Copyright" PDF in the folder for the specific home study.
If you purchased multiple home studies you may receive all materials on one USB/Flash drive, or multiple in the same mailing package.
Print the answer sheet page, fill in your answers and you can fax it back to us at 713.772.0155 or mail it back to AHEC, 8502 Tybor Drive, Houston, TX 77074.
Passing grade is 75% or higher. AHEC will notify you only if you do not pass the test. You have three chances to take the test and receive a 75% or higher.
The grading process takes 1-2 business days and the USB is yours to keep.
Write a review
Your Name:
Your Review:
Note: HTML is not translated!
Rating:
Bad
Good
Approval expiration date is 05/31/18