Sound Advice Emergency Medicine Ultrasound Protocol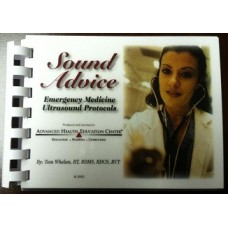 Product Code:
SoundEmerg
Availability:
In Stock
Expiration Date:
12-31-2030
Price: $49.95

This book is NOT for CE. Help has arrived in the form of Sound Advice, a reference tool written for Physicians and Sonographers designed to refresh your memory quickly, and organize your examination. Sound Advice is a flip-book designed to hang from a ring on your ultrasound machine out of the way until you need it. This tool is succinct and organized logically by topic. With it, you can quickly review an emergency procedure, or follow it step by step to obtain concise images. Following the steps in Sound Advice will ensure that your examination is standardized, thus allowing for consistent, predictable procedures compatible with quality assurance guidelines. Sound Advice is written to be a companion to ultrasound courses taught at AHEC, and consistent with currently published SAEM guidelines.
Write a review
Your Name:
Your Review:
Note: HTML is not translated!
Rating:
Bad
Good