Please register early and reserve your place by registering online or calling 800.239.1361
This is the LIVE EVENT registration form. This event is also available as a LIVE Webinar.
**The start time of this course is 9am CST.
The CT Prep and Exam Review 16 hour structured education CE course provides technologist a comprehensive overview of the concepts and principles of Computed Tomography. The CT course is an excellent introduction for the entry level technologist cross training into CT from Radiography, Radiation Therapy or Nuclear Medicine, as well as experienced CT technologist who are preparing to take the Post Primary CT exam. The courses are taught by expert faculty with experience in teaching Exam Review courses and they have relevant clinical experience.

The CT Prep and Exam Review topics include the content areas as outlined in the ARRT content specifications for the Post Primary CT exam.

**This course satisfies the new requirements of 16 hours of structured education which must be met in order to sit for the ARRT Post-Primary Certification Examinations. This is a requirement for those taking the registry beginning January 2016.
Course Topics
Day 1
CT Instrumentation (Including: Radiation Physics and Informatics)
CT Physics (Including: Reconstruction, Data Acquisition, Image Display, and Processing with Post-Processing)
CT Image Quality (Including Artifacts)
Day 2
Patient Care (Including Radiation Safety)
CT Procedures
CT Anatomy and Pathology
*Please note that live webinar and live event registrations close 48 hours prior to the event date, and phone registrations for live webinar close at 1pm CST the day before the event is to begin.
Structured Education Requirements
Beginning January 1, 2016, candidates for post-primary certification and registration are required to document completion of structured education related to the content specifications.
Educational activities must meet the following requirements:
the educational activities must be distributed among current ARRT content specifications for this discipline;
the total number of hours must equal at least 16; and
at least one hour of structured education must be related to each of the following content areas:
Patient Care and Safety
Imaging Procedures
Physics and Instrumentation
The verbage above is pulled directly from the ARRT's Structured Education and Clinical Experience Requirements. The course includes the current ARRT content specifications for CT and includes at least one hour of structured education in patient care and safety, imaging procedures, and physics and instrumentation.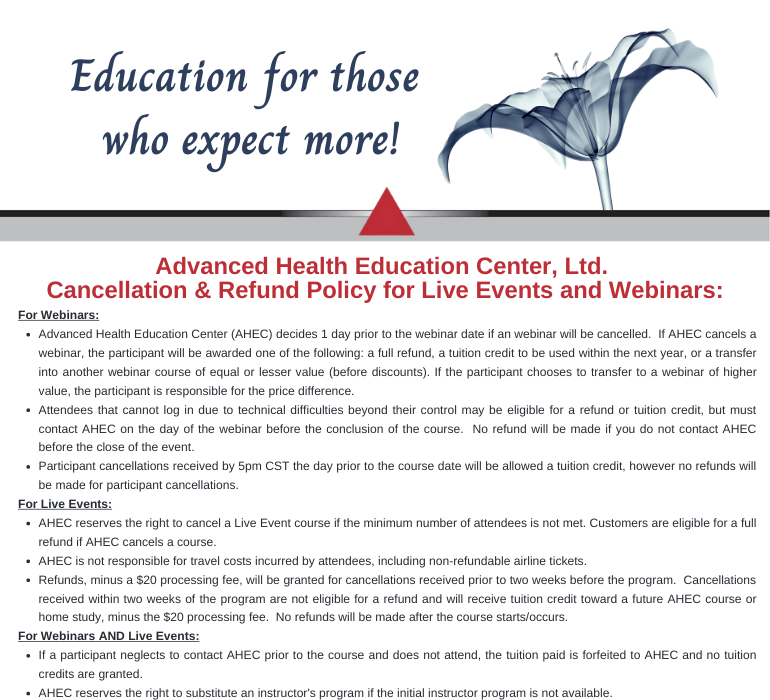 This program provides 16 hours of AHRA Category A continuing education credit for radiologic technologists recognized by the ARRT and various licensure states. You must attend the entire program to receive your certificate of completion
Roger Bumgardner MPH, RT(R)(CT)(NM)(CV)

Roger is the director of the radiography program at Houston Community College in Houston. He teaches numerous courses and has a long career of performing and teaching CT, MRI, Cardiovascular and Radiography. He has participated in developing a CT and Cross-Sectional Anatomy Manual and taught a CT review course nationwide for Advanced Health Education Center. He is a regular volunteer and instructor going back to the Peace Corps in the 1980's, Omega House in the 1990's and Hurricane Rita Relief Service in 2005. Roger is a natural speaker. You will love his ability to make difficult topics easy to understand.
CT Prep and Exam Review (Live Event)
Course ID: CTPrepExamReview-2697-203

Event Location

: Advanced Health Education Center, 8502 Tybor Drive, Houston, Texas, USA, 77074

Credit:

16 Credits Category A Direct

Date:

09/16/2022 9:00 AM - 09/17/2022 4:30 PM

Instructor:

Roger Bumgardner MPH, RT(R)(CT)(NM)(CV)