Vascular Ultrasound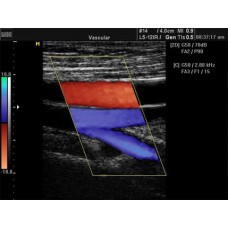 Course ID:
VASCUS-1047-171
Event Location
:Advanced Health Education Center, 8502 Tybor Drive, Houston, Texas, USA, 77074
Credit:
40 AMA PRA Category 1™/ 30 SDMS Credits
Date:
09/17/2018 08:00 am - 09/21/2018 05:00 pm
Instructor :
Shawn Shanmuganathan BS, RDMS, RVT
Price: $3,893.00

Houston, TX -- Register early and save! Please register early and reserve your place by providing payment to avoid an additional $25 fee required for registrations given within two (2) weeks of the course.
Vascular ultrasound has progressed over the years to become much more than a screening tool. From its early beginnings of grainy black and white two dimensional images, to the addition of Doppler and color flow, it has become the modality of choice for early detection of peripheral arterial, cerebrovascular, and venous disease. For the detection of DVT and venous reflux, duplex testing is now the gold standard other modalities are compared to. Accurate diagnostic testing of the vascular system requires a comprehensive understanding of anatomy and hemodynamics as well as the various pathological conditions that can present. Multiple variables such as cardiac output, dehydration, and infection can all have an impact on the vascular system. This seminar provides an overview of physics and instrumentation, anatomy and hemodynamics, and diagnostic criteria suitable for anyone from an experienced sonographer to the beginner. For the physician wanting a more thorough understanding of the capabilities and potential of the vascular lab, along with interpretative criteria, our extensive library of case studies will prove invaluable. Our scan lab and state of the art equipment, along with our low student instructor ratios allow you plenty of time to perfect your protocol, and acquire the scanning experience necessary to perform diagnostic vascular exams.
The Vascular Ultrasound course is a 5-day course with a breakdown of topics as follows. Each section of the course can be taken individually throughout the year. For more information on the different course dates and options, please visit this page: https://store.aheconline.com/index.php?route=product/category&path=59_83_112.
Breakdown of Days:
Day 1 – 2: Carotid Duplex Ultrasound
Day 3 – 4: Peripheral Vascular Ultrasound
Day 5: Abdominal Doppler Ultrasound
Learning Objectives
At the completion of this course, the learner will be able to:
Correctly identify vessel anatomy and orientation in a vascular ultrasound examination.
Identify the variations in instrumentation and Doppler principles and the effects in scanning parameters.
Describe the flow characteristics and the manifestations of disease processes.
Discuss QA of the procedure and equipment.
Analyse the results of a vascular exam for pathological conditions and in certain cases, quantify the diseases.
Identify additional resource information on vascular ultrasound.
Course Topics
Overview of the physical principles of ultrasound including Doppler and color flow
Comprehensive review of the ultrasound platform controls enabling you to optimize your system for even the most difficult patient
Carotid duplex testing including: anatomy, hemodynamics, diagnostic criteria, case studies, pearls and pitfalls, as well as standardized reporting
Arterial duplex testing
Anatomy, hemodynamics, and diagnostic criteria
Venous diagnostics including techniques for the detection of DVT and Venous reflux
Case studies, pearls and pitfalls, and standardized reporting
Hands-on scan lab
Target Audience
Physicians who desire entry level training with vascular ultrasound, and sonographers or other health care professionals learning vascular ultrasound or cross training.

CME Credit
"The Advanced Health Education Center is accredited by the Accreditation Council for Continuing Medical Education to provide continuing medical education for physicians."
"The Advanced Health Education Center designates this educational activity for a maximum of 40 hours AMA PRA Category I™. Physician should claim credit commensurate with the extent of their participation in the activity."
SDMS Credit
"The Society of Diagnostic Medical Sonographers allows 30 hours CE Credit."
Scan With the Experts
We understand that you may want/need to practice your new skill set more than the regularly scheduled courses allow. You can add an extra day of scanning in addition to this course by calling AHEC and speaking to a faculty member about our Scan with the Experts option. Additionally, Scan with the Experts sessions can be set up without registering for a regularly scheduled course to enhance your already developed skills. Call AHEC at 1-800-239-1361 for more information.
AHEC Cancellation and Refund Policy for Skills Courses
AHEC defines a skills course as a limited enrollment course where a received registration with payment reserves your place in a course (i.e. all Ultrasound courses, Mammography Initial Training and other theory courses). For cancellations received at least two weeks prior to the course date, a refund less a 30% processing fee will be given. Within two weeks of the course, no refund is given, but a tuition credit – less a 30% processing fee – may be applied to a future course. No refunds or tuition credit is given for non-attendance. Facilities may substitute employees by notification to AHEC at least one week in advance.
Invitation Letter
AHEC can provide an invitation letter once the course is paid in full. Any cancellations, there is no refund but a 100% tuition credit will be given towards a future course. The tuition credit is valid for one year.
Write a review
Your Name:
Your Review:
Note: HTML is not translated!
Rating:
Bad
Good
The Advanced Health Education Center designates this educational activity for a maximum of 40 hours AMA PRA Category I™. Physician should claim credit commensurate with the extent of their participation in the activity. The Society of Diagnostic Medical Sonography allows 30 hours CE Credit.
Shawn Shanmuganathan BS, RDMS, RVT

Shawn has been a Nuclear Medicine Technologist and Ultrasound Technologist for over 40 years. He received his Bachelor's Degree in Biology from Loyola College in Madra, India, a post graduate diploma in Nuclear Medicine Technology from John F. Kennedy Medical Center in Edison, New Jersey, and a post graduate diploma in Diagnostic Ultrasound from the State University of New York in New York City. Throughout his career, he has worked in private practice and hospitals as a nuclear medicine technologist and sonographer. The majority of his career has been in Texas as a Sonographer, Chief Sonographer and Program Director at major medical center hospitals. Shawn also was the Program Director for an ultrasound training program for five years. Shawn is a very experienced and knowledgeable instructor. His passion for teaching is obvious in the classroom.