Imaging the Bizarre and the Deadly [9:00am CST] (Live Webinar)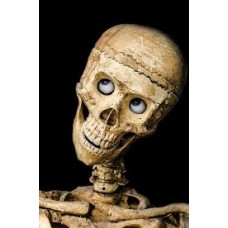 Course ID:
Webinar-ImageBizDead-3769-159
Credit:
3 Category A Credits Direct
Instructor :
Lesa Mohr BSRS, RT(R)(QM)(BD)
Expiration Date:
05-03-2018
Register online or call 1-800-239-1361 at least 2 hours before the course start time.
**AHEC Live Webinars and Simulcasts are hosted through Zoom. You can use a computer/laptop or an Android/iOS mobile device. Click the following link to download the required plugin for "Zoom Client for Meetings": https://www.zoom.us/download. Please scroll down to view the system requirements for Zoom. For detailed instructions on preparation and completion of a webinar or simulcast click this LINK.**
*This live, instructor-directed course meets the Texas Medical Board requirements for all registered Medical Radiologic Technologists to obtain at least 3 hours of instructor-directed continuing education. Please refer to the TMB website for more information at this LINK
Hot off the press……….this webinar aims to astonish you! We'll bring you the latest on the opioid crisis in America. The statistics make it absolutely urgent that something be done to stop overprescribing of opioids. You'll learn how it all started and what is currently being done to stop it. Then we'll take about Bezoars. A Bezoar is a truly bizarre pathology! If you aren't aware what they are, or just want a better understanding; this webinar is for you. We will conclude the webinar with a discussion and facts on the amount and type of bacteria lurking on cell phones and other electronic media in the healthcare workplace. You'll be rushing for the bleach wipes afterwards!
Course Topics:
The Opioid Crisis in America
How Bezoar is That!
Electronic Devices: Pathogens in Imaging
Faculty: Lesa Mohr, BSRS, RT(R)(QM)(BD) and Dawn McNeil, MSM, RT(R)(M), RDMS, RVT, CRA, FASRT
Start Time Based on Time Zone:
10:00 AM Eastern
9:00 AM Central
8:00 AM Mountain
7:00 AM Pacific
6:00 AM Alaska
5:00 AM Hawaii
You must watch the entire webinar session. If you log in 15 minutes after the webinar has started, you will not be issued a certificate. The system we use monitors interactivity and will provide us with a report.
Advanced Health Education Center, Ltd. Webinar Cancellation & Refund Policy
Advanced Health Education Center (AHEC) decides the Monday prior to the webinar date if an AHEC Live Webinar will be cancelled.
AHEC reserves the right to substitute an instructor's program if the initial instructor program is not available.
If AHEC cancels a webinar, the participant will be awarded one of the following: a full refund, a tuition credit to be used within the next year, or a transfer into another webinar course of equal or lesser value (before discounts). If the participant chooses to transfer to a webinar of higher value, the participant is resonsible for the price difference.
Any participant cancellations received by 5pm CST the day prior to the course date will be allowed a tuition credit. There are no refunds.
If a participant neglects to contact AHEC prior to the course and does not attend, the tuition paid is forfeited to AHEC and no tuition credits are granted.
System Requirements:
An internet connection (broadband wired or wireless – 3G or 4G/LTE)
Speakers or headphones
Operating Systems:

MacOS 10.6.8 (Snow Leopard) or later
Windows 8/8.1
Windows 7
Windows Vista with SP1 or later
Windows XP with SP3 or later

Tablets:

Surface PRO 2 with Windows 8.1
iOS and Android devices

Web Browsers:

Windows Internet Explorer 7+
Firefox
Chrome
Safari 5+
Opera 12+
**For more information on the system requirements please click this LINK
Write a review
Your Name:
Your Review:
Note: HTML is not translated!
Rating:
Bad
Good
Lesa Mohr BSRS, RT(R)(QM)(BD)

Lesa Mohr is the Vice President of Educational Services and Special Projects for the Advanced Health Education Center. Lesa joined AHEC in 2009 as a full time member of the team. She originally began with our company as a project manager and faculty back in 1995 and ran various educational and government programs for six years. Lesa was Quality Control Supervisor at Methodist Hospital, and later the Assistant Director at St. Luke's and Texas Children's Hospitals. Lesa has extensive background experience in clinical quality control, quality management, and bone densitometry.